I've danced with mother sound and sister music my entire life.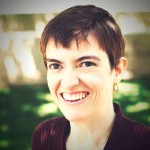 Singing from the age of three, I made my stage debut at the age of 8 when I sang the Richard Rodgers/Oscar Hammerstein II number "It's a Grand Night for Singing" from the musical "Meet Me in St Louis". During my school years, I was exposed to classical voice culture and was an active soloist and member of almost a dozen choral and ensemble groups. As a member of my high school concert choir, I had the opportunity to perform in Finland, Sweden, Norway and Russia.
For more than a decade, as a writer and public relations professional, I've used words as my paintbrush.
However, the seed music planted years before remains deeply rooted.  I have been rediscovering my connection to sound and music and have been engaging, studying and absorbing in every way possible. Although I consider my voice my first instrument, I've grown close to a parlor-sized guitar that has opened me to a world of acoustic folk, rock and blues improvisation. I've also explored the magic of chanting in the traditions of Indian, African and South American cultures. I continue to experiment with traditional, modern instruments and vibrational tools.
I regularly network with music therapists and sound practitioners and attend classes and seminars to understand the challenges and opportunities in the evolving world of sound, music and healing.
It is my goal, with this blog, to share what I learn along my journey as I discover my personal musical path, to offer practicing therapists an outlet to share their experiences and to help them communicate the value that their passion brings to humanity.
I am glad you are here; let's learn and create together.